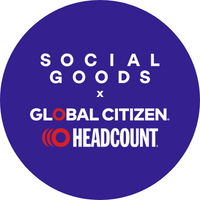 Goods that Give

The Social Goods for Global Citizen x HeadCount Collection
Global Citizen is a movement of engaged citizens who are using their collective voice to end extreme poverty. The actions that Global Citizens have taken to address such issues as healthcare, education, equality for women and girls, food and hunger, sanitation, environment, and citizenship have to date impacted the lives of over 1.1 billion people.
HeadCount is a non-partisan non-profit organization that harnesses the power of music, culture and digital media to register voters and inspire participation in democracy. Since 2004, they've registered over one million voters through work with musicians and brands. HeadCount reaches young people where they already are – at concerts and online – to inform and empower.
The new Social Goods for Global Citizen x HeadCount Vote collection, supports their ongoing work to register voters and encourage young people's participation in democracy.